Fostering Transit-Oriented Communities
INTRODUCTION
Transit-oriented development (TOD) is nationally recognized as a critical strategy for achieving sustainable growth. The key question is no longer whether or not we want TOD, but rather, how do we make it happen?
Mirroring recent trends in many U.S. urban areas, the central Puget Sound region of Washington State has accelerated investments in high-capacity transit, setting up a growing number of opportunities for TOD. With the goal of maximizing these opportunities, Washington State advocacy organizations Futurewise and Transportation Choices Coalition teamed with integrated design firm GGLO to produce a report entitled "Transit-Oriented Communities: A Blueprint for Washington State." And while the report is focused on Washington State, the vision, principles, and recommendations described are relevant to cities and states across the country.
OVERVIEW OF THE TOC BLUEPRINT
The Blueprint lays out a vision and action plan for TOD in response to failed Washington State legislation that would have required planning for high-capacity transit station areas and established minimum thresholds for density and affordable housing, among other things. To that end, the Blueprint concisely integrates the many disciplines involved in the realization of high-quality TOD, including planning, design, and public policy. And this broad perspective led to the intentional use of the term "transit-oriented communities" (TOC) in place of TOD. While TOD might imply no more than a single building near a transit station, TOC encompass the rich range of physical and social systems throughout the station area.

An example of a transit-oriented community, the Burien Town Square project in Burien, WA, shown above, includes 124 homes, retail, a new city hall, a library and a park on 1.5 acres. The development is located near a major bus terminal, with shuttles to the airport and light rail, and a future bus rapid transit station.  Burien Town Square is the culmination of a decade of integrated planning that considered holistically the interplay between civic, residential and commercial uses with the local and regional connections provided by transit. (image: GGLO)
The Blueprint begins with a summary of the role of TOC in sustainable cities, and a discussion of the social and political context. Then, to substantiate TOC as an essential solution to our urban challenges, the report presents a review of the extensive body of research on the social and environmental benefits of TOC, with a focus on energy and greenhouse gas emissions. Next, to effectively assess TOC in terms of these potential benefits, a matrix of station area types and a set of performance goals and measures are proposed. Lastly, the report lays out specific policy actions that are needed at the local, regional, state, and federal level to support the creation of high-performing TOC.
Given that the urban context and benefits of TOC are relatively well-established, the remainder of this article will focus on typology, measures, and actions.
STATION AREA TYPOLOGY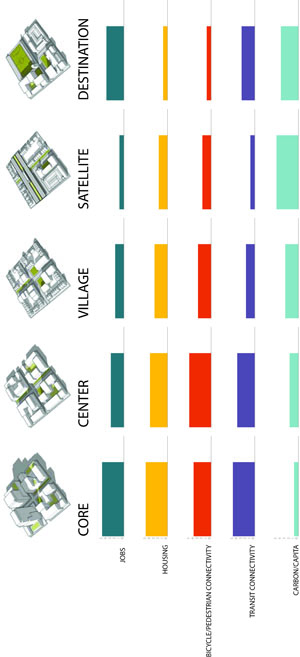 Every station area is unique. A half-mile radius around a station may encompass several distinct neighborhoods, topographies, and a range of zoning, development patterns, and uses. Still, a typology is an indispensable framework for assessing the potential social and environmental performance of specific station areas.
The Blueprint proposes a set of five station area types based on the attributes of infrastructure, connectivity, land uses, and zoned capacity for jobs and housing: Core, Center, Village, Commuter, and Destination. The diagram to the right illustrates each type and the expected performance in terms of jobs, housing, and connectivity.
Given the established relationships between the typology attributes and social and environmental benefits, one can generally expect the highest level of performance at Core stations, followed by Center, Village and Commuter station types. The Destination type is an outlier, for which conditions can vary greatly.
To illustrate the station area typology, the Blueprint presents case studies for nine high-capacity transit station areas (existing or proposed) in the greater Seattle area. To give a flavor for the amount of variability, zoned housing capacity is 256 units per net acre at a Core station in downtown Seattle, compared to four units per net acre at a proposed Commuter station in the neighboring city of Bellevue. Such comparisons underscore the importance of careful station siting decisions.
PERFORMANCE MEASURES
Regardless of station area type, achieving the full range of potential benefits from TOC hinges on maximizing access and choices for people living, working and visiting the station area. To define high-performing TOC on these terms, the Blueprint proposes performance goals and measures in the following seven categories:
Bicycle and pedestrian connectivity
Housing affordability
Residential and employment density
Mix of uses
Green infrastructure and open space
Parking
Urban design
Not all station area types can or necessarily should meet every measure. However such standards that identify station areas with the best potential to support high-performing TOC can help inform both transit system and local land use planning efforts.
The single most important TOC performance measure is density, and residential density in particular tends to be a controversial issue. To help dispel misperceptions about what density means, the Blueprint includes a set of example buildings and their net housing unit densities, as shown in the images to the right. For reference, the Blueprint's proposed minimum of 15,000 housing units in a half-mile station area is typically equivalent to an average density of about 50 units per net acre.
POLICY ACTIONS
Building on the station area typology and performance measures, the Blueprint's concluding chapter recommends a host of changes to land use, transportation, and financing regulations and policies from the local through the federal level. Overall, these recommendations are intended to:
Promote optimal performance on all measures in all station areas;
Provide support and incentives for high-performing TOC; and
Encourage planning for high-performing TOC along future high-capacity transit investments.
Specific recommendations are listed below:
Local:
Conduct sub-area planning for TOC.
Encourage meaningful public engagement in TOC planning.
Plan and fund for public facilities and services within TOC.
Develop strong and innovative land use regulations in TOC.
Reform parking requirements and programs.
Encourage innovative housing types in TOC.
Link affordable housing programs to TOC.
Consider TOC as TDR receiving sites.
Regional:
Maximize the potential for high-performing TOC along future high-capacity transit alignments.
Support local station area planning at the regional level.
Incorporate the measures from this report into the regional transportation planning organization guidelines and principles.
Prioritize funding for high-capacity transit and high-performing TOC in regional transportation plans.
State:
Define high-performing TOC in statute to assist in planning for high functioning communities.
Reflect regional transportation priorities in state transportation funding decisions.
Authorize fiscal home rule.
Provide more tools for long-term infrastructure funding and greater state funding.
Provide expanded taxing authority for transit funding.
Adopt legislation to implement the Federal American Clean Energy and Security Act.
Federal:
Pass comprehensive federal clean energy and climate change legislation.
Reauthorize the Federal Transportation Funding Act including improved federal transportation policies.
Provide federal technical assistance for TOC planning and implementation.
THE TOC BLUEPRINT IN THE NATIONAL CONTEXT
Compared to most other states, Washington State has the advantage of a strong state-level growth management framework, though at the same time it also has regulations impeding joint development through tax-increment financing. Overall, however, the creation of high-performing TOC faces similar challenges across the majority of U.S. urban areas. Thus, the local, regional, state, and federal actions noted above are all widely applicable.
Likewise, the measures proposed in the Blueprint for evaluating TOC performance are relevant to station areas nationwide, providing guidance in two key areas: (1) the choice of station locations for new alignments, and (2) the verification of station area eligibility for targeted policy incentives designed to promote high-performing TOC. The State of New Jersey's Transit Village Initiative is perhaps the nation's best example of an incentive system that relies on a set of criteria for designating eligible station areas.
Lastly, as greenhouse gas emissions become more tightly regulated at both the State and Federal levels, governments can be expected to enact policies that promote TOC as a means to cut transportation emissions. For example, California's 2008 AB 375 requires jurisdictions to plan for reducing vehicle miles traveled. Transit-Oriented Communities: A Blueprint for Washington State provides a universal roadmap for pursuing those goals. You can download a free copy from: www.futurewise.org/priorities/toc or www.gglo.com/insight/blueprint.aspx.