Monday, March 10, 2008 | posted by dan bertolet | Comments Off on Land Use No-Brainer: Interbay Upzone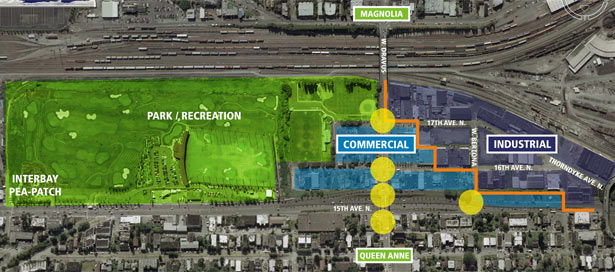 [ Interbay; North is to the right ]
As reported in the Seattle PI today, and in the Seattle Times back in January, pretty much everyone* agrees that upzoning the Interbay district is a good idea. Interbay, which is not an official neighborhood, is a chunk of neglected land just south of the Ballard Bridge, centered around W. Dravis St. to the west of 15th Ave. W.
The Interbay Neighborhood Association has been advocating for an upzone since 2005, and the Department of Planning and Development (DPD) began conducting zoning studies in 2006. And here we are in 2008, still waiting for a decision.
Currently, progress is being held up by DPD, which must produce the environmental impact statement before any further steps can be taken. In other words, red tape. If DPD needs to hire more people to preclude delays such as this, they should be given the budget immediately. Seattle is growing up fast and we can't afford to miss out on opportunities for dense redevelopment in areas that are perfect for it.


*Everyone except the Magnolia Neighborhood Planning Council, which, echoing the rallying cry of suburbanites across the nation, is objecting to density and building heights. Pardon my rant, but this attitude just gets more appallingly pathetic by the day. Is it possible, living in a city like Seattle, that these people still do not understand the connection between density and sustainability? Would it be unfair to insinuate that in truth, the primary concern of most of these folks is traffic congestion on Dravus?
Well here's the deal Magnolia Neighborhood Planning Council people: Seattle is densifying as a strategy to help mitigate environmental crisis (perhaps you've heard about this on NPR?). Magnolia is not exempt. Yes, it will be harder to get around by car, you can count on that, everywhere in the City. Slowly but surely transit will be improved. Maybe you'll find yourself taking the bus, or riding a bike, or perhaps even walking to the thriving new neighborhood center in Interbay. You'll be OK. Better off, even. And so will the City, the region, and the planet.