Tuesday, March 18, 2008 | posted by dan bertolet | Comments Off on Gray (Affordable Housing for Artists)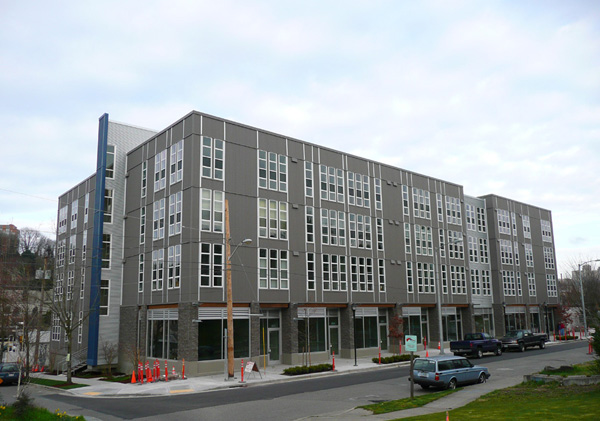 Artspace, the folks who developed Tashiro Kaplan Artist Lofts in Pioneer Square, are just finishing their second Seattle project, Hiawatha Lofts, a block southeast of Rainier Ave. and Dearborn St. The building houses 61 low-income artists lofts, 5000 square feet of retail space, and 54 underground parking stalls. Designed by SMR Architects, who specialize in low-income housing and historic preservation; project cost: $17 million.
Yes, she's a gray lady, all gray but for a splash of intense blue on either end, and the brown wood lintels over the storefronts. And all those white window mullions, which, while they do have that cheap vinyl look, also give the facade an unusual and satisfying rhythm and texture.
A gray building in gray Seattle. So be it. The art inside can provide the color. Overall, I think this building is successful architecturally because it is based on a few simple and strong ideas: a clean and crisp 4-story box; gray metal siding; tall and skinny floor-to-ceiling windows. No doubt this project had a very tight budget, all the more reason to stick with simple design elements.
Seattle needs more low-income housing projects like this — so how did it happen? First of all, the City of Seattle gave the land (valued at $1.7 million) to the developers in exchange for the guarantee that the low-income housing will be available for 75 years. The project also requested $3 million from the City's 2002 affordable housing levy. The State chipped in $1 million, and the Paul G. Allen Family Foundation contributed $400,000. All in all, it appears that roughly one third of the project cost was subsidized.
And that's the bottom line: If we want affordable housing built in Seattle, it will have to be heavily subsidized. Socialism is us.