Friday, March 21, 2008 | posted by dan bertolet | Comments Off on Los Angeles, Dubai, and Tent Cities
This is Frank Gehry's $2 billion vision for Grand Avenue in downtown LA adjacent to the Disney Concert Hall. The project had been stalled by financing setbacks related to the real estate slowdown, but construction is finally set to begin after $100 million of funding was secured from the Royal family of Dubai.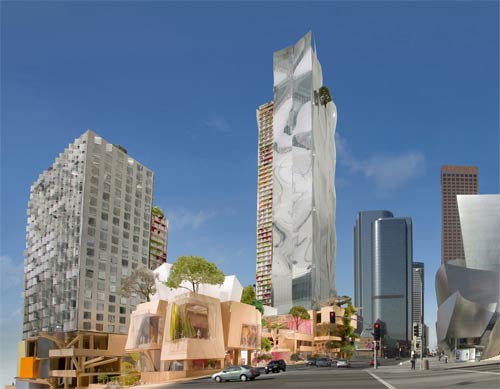 Meanwhile, the BBC reports that "tent cities have sprung up outside Los Angeles in the US as people lose their homes in the mortgage crisis:"
http://www.youtube.com/watch?v=CnnOOo6tRs8
The footage is from the homeless tent city in Ontario, CA, about an hour east of LA. The camp has grown from 20 to 400 in nine months.
Hello Blade Runner.

[ Tent city in Ontario, CA; photo: LA Times ]