Wednesday, April 9, 2008 | posted by dan bertolet | 7 comments
Christopher Alexander has a thing for four-story buildings (see the Pattern Language). And who wouldn't agree that it's a great to maintain a direct connection to the street — connection as in, you could shout up and ask your girlfriend to throw down the keys. But in today's cities, does it make sense to put such a limit on density?
Following up on my street walls post, check out some more of the 4-story corridor that's coalescing on the northern end of Eastlake Ave:

[ Funky: At the corner of Eastlake and Harvard Ave. ]

[ Across the street from the Coronado: If you can't think of something nice to say… ]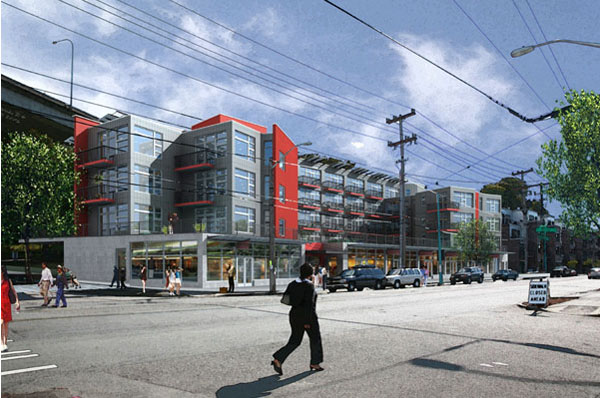 [ Ruby Condominiums: Under construction, just after you come out from under the I-5 shipping canal bridge. ]
Commenter Steve surmised that this section of Eastlake will never be a vibrant pedestrian district because it draws from too small a residential area. But what if each of these new 4-story residential buildings had two more floors, i.e., 2/3 more units?
I don't get Seattle's NC-40 zone. You can't even build a decent "3-over-1" mixed-use building in 40 feet because there isn't enough height for a standard retail space (this is why NC-65 has that extra five feet tacked on). Fortunately, developers routinely get the extra ~ 5 feet they need through an allowance in the code. Even so, it can be a challenge to make a 4-story building pencil when underground parking is desired, and so the developer ends up cutting corners elsewhere in the building, e.g. facade materials and windows.
Seattle needs to take another look at its NC-40 zones to identify those that should be upzoned to NC-65. A prime example is 23rd and Union. Of course, there are places where a 40-foot height limit makes sense. But I suspect there are lots of areas where an upzone is warranted.
Upzones are always controversial. But if we're serious about creating a more sustainable city through densification, we'll have to accept that change is not painless.
(Note: Ruby Condos was designed by Johnson Architecture, who also designed Trace Lofts.)