Friday, May 23, 2008 | posted by dan bertolet | 6 comments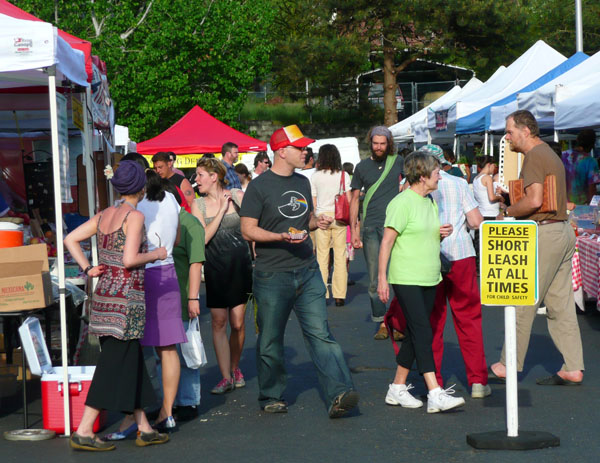 Please excuse my earnestness: Farmers markets are all good. They support local farmers, they provide high-quality, real food, they get neighbors out walking and meeting their neighbors — they build community in the truest sense of the word.
Farmers markets are a wrench in the works of both the corporate food machine, and the corporate don't-ever-leave-your-house-mindless-entertainment-in-isolation machine. Farmers markets are as wholesome as well, eating your vegetables.
Thank you City of Seattle for helping to support farmers markets by lowering permit fees.
The photo above is of the Friday farmers market at MLK and Union in the Central District. Just because I can never not find at least a little something wrong with everything, I have to point out the lack of African Americans at this farmers market. There were some, but far fewer than you would expect, given the racial mix of the neighborhood. I'm not sure what to say about this other than I wish it wasn't so. Part of it is probably socioeconomic — farmers markets aren't exactly cheap. The issues are complex and sensitive — suffice it to say here that it is a stark reminder of stubborn cultural divisions.