Sunday, June 1, 2008 | posted by dan bertolet | Comments Off on Good Urban Plaza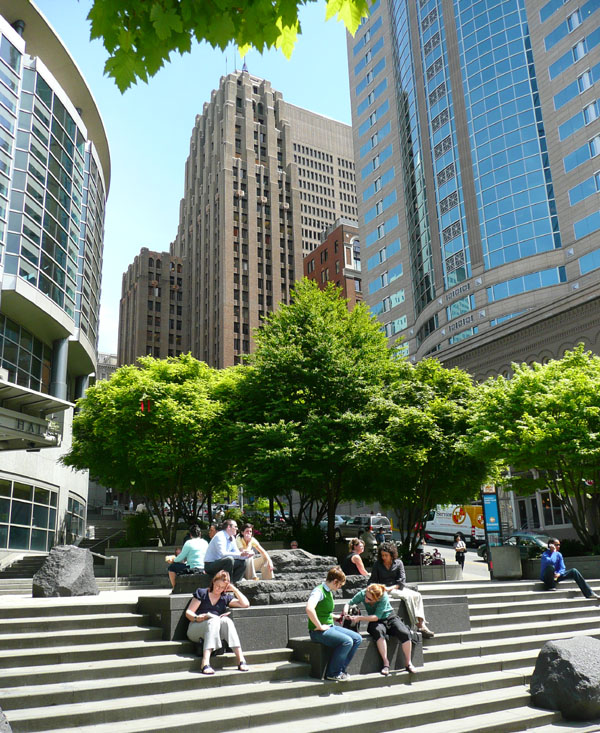 The Garden of Remembrance, on the SW corner of Benaroya Hall at 2nd and University, is an urban plaza done right. All the key ingredients are there: lots of places to sit, sun and shade, privacy and exposure, beautiful plantings, water, a comfortable human scale, an elevated prospect from which to watch the action on 2nd Ave, activation provided by the bus tunnel, the pedestrian way down to Harbor Steps, and a cafe, and even a thoughtful theme.
And the proof is in the people: When the weather is nice, the plaza fills up. In contrast, on the day these photos were taken, the steps next to the Seattle Art Museum across 2nd Ave were nearly empty.
The only way the Garden of Remembrance could be improved is if it had more activation after work hours, such as with a restaurant that could spill out on to the plaza on warm summer nights. Of course, night time activation is always a challenge for this part of downtown that is so dominated by day time office uses.
The Garden of Remembrance illustrates how a relatively modest amount of urban open space can go a long way. Large urban open spaces are appropriate in some cases, but are all too often underutilized, either because of alienating design, or because people have no reason to be in them. If we aspire to maximize the potential for livable density in our cities, we would do well to focus our efforts on the open space model of the Garden of Remembrance.