Sunday, August 3, 2008 | posted by dan bertolet | Comments Off on Craigslist Brilliance
hipster fixie 'the bumblebee' you want this! – $800 (Capitol Hill)
Reply to: sale-781268604@craigslist.org
Date: 2008-08-03, 9:24AM PDT
Come one come all! Hipster kids behold: the Bumblebee. Ok so I never got around to painting it like a real bumblebee but you could.
This is your perfect ticket of acceptance into your local fixed gear scene.
Ever wanted to go to Linda's, but didn't have a fixie to park out front?
Ever wish you could ride up alongside the cute chick with tats and piercings and strike up a conversation on the road?
Ever wanted to be one of the cool kids doing tricks on the basketball court at Cal Anderson?
Trackstand outside the party with a PBR in one hand and a cigarette in the other?
Ever wanted to slam into the back of a car because you don't have brakes? You should, more battle scars for the ladies to gaggle over.
This bike is a true attention grabber, and thats what riding a fixed gear bike is all about. You want to be (scene/seen) by the world! What could be more confirming of your pimp status than cruising down the street and seeing the heads turn..Getting a nod of approval from your local fixed gear allstars as you ride backwards on the basketball court..Someone will have already poured you a PBR at Linda's by the time you lock up and go inside. You could even try your hand at fame and fortune by competing in mock athletic events such as Fast Fridays.
No-name steel 54cm frame & fork (has brake mounts)
Origin8 crank with 46 tooth Sugino Zen Messenger chainring
Surly 17 tooth cog
random beast chain
Soma steel toe cages with double straps
Velocity Deep-V rims with

Phil Wood low flange track hubs (these are sick)
DT Champion 2.0 spokes
front rim is machined if you want to puss out and use a brake
and of course the yellow star grips to match the rims. I'll even throw in a pair of plain black grips for when you help your roommate build his fixie next weekend. The bike could use a new pair of tires, but these ones will get you laid a couple times until your dead-end job pays out enough to buy new ones. No, the Deep-V's won't look as cool as the HEDs (and now Zipps? what the fuck?) at Cal Anderson, but at least real cyclists will quietly dismiss you as a hipster instead of talking really loud about how your bike has a time trial wheel but will never go fast enough to take advantage of its aerodynamic design. This will be a perfect Tonka truck of bicycles until your gears drop.
So theres no better time than now – go pawn the Macbook your parents bought you for highschool graduation. Cash in your mountain of PBR cans at the recycling center. Go get the next size of ear gauges you've been procrastinating on. Cut off your jeans. Stop hiding your half-finished tattoo and scrape your pennies together to complete it. Make a unistrap backpack out of duct tape, PBR boxes, and flannels from Value Village. Cruise eBay for an Italian cycling cap. and most important of all, _BUY THIS BIKE!_
Cash only, $800 OBO. Call Jake (phone number deleted).
Update: To the people calling me all raged, I'm just making light of an amusing trend that I too participated in at one point. Pull your panties out of your asses and smile. Yes, the bike is actually for sale.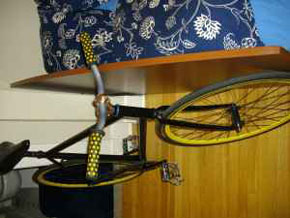 Location: Capitol Hill
it's NOT ok to contact this poster with services or other commercial interests
PostingID: 781268604
---