Monday, September 1, 2008 | posted by dan bertolet | Comments Off on Fear of Heights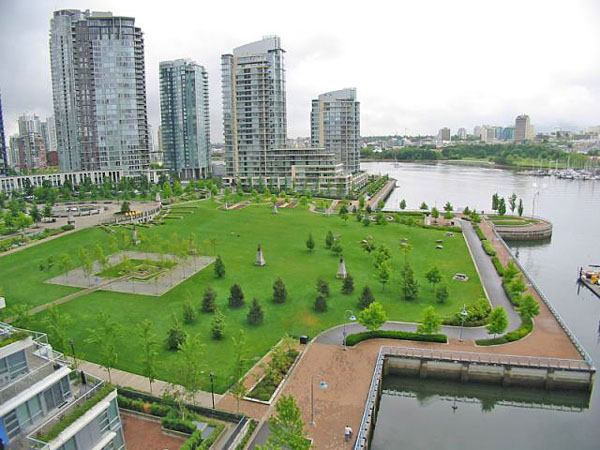 [ False Creek North, Vancouver, BC ]
A new citizens group has formed to oppose proposed upzones for the South Lake Union neighborhood. The group's desire to see South Lake Union grow into a diverse and complete neighborhood is spot on. But alas, going on what the PI reported, it appears that their main beef is a misguided fear of tall buildings. Because as DPD urban designer Lyle Bicknell put it so well:
"There are many different ways to build a community; Paris has buildings 65 to 85 feet high, but Vancouver (B.C.) is also a successful urban environment, with schools, great open space, grocery stores and all the elements that make successful neighborhoods."
We've seen what the current 65 to 85-foot zones will deliver: see for example Alcyone, Alley 24, AMLI 535, or Rollins St (not to mention countless "5 over 1" buildings all over the city). Restricted building height does not necessarily lead to affordable units, or any other desired neighborhood quality. And since these projects tend to max out the building height across block-long parcels, they have a bigger impact on most people's views than would a pin tower on a two-story pedestal. (Alcyone's designers left a gap in the building to allow a Space Needle view from Cascade playground.)
While the Vancouver model isn't perfect, it is a dramatic success story by most standards. A recent survey of residents of Vancouver's first planned complete downtown neighborhood, False Creek North, revealed a high level of satisfaction:
Residents said they liked the mix of people, which includes everyone from toddlers to grandparents and is split about evenly between people who speak English as a first language and people who don't. And no one had a negative thing to say about the neighbourhood's mix of social and market housing, which some experts in the past predicted would create tensions between low- and high-income people.
Paris reaches high population density with relatively modest building heights because so much of the city is blanketed in mid-rise buildings. Seattle would have to upzone massive tracts of single-family zones to become like Paris. And while I haven't seen data, I suspect that the open space per resident in Paris is lower than what we expect here in Seattle (can anyone enlighten us on this?).
All in all, it is hard for me to imagine how we would be able to achieve the goals we have for sustainable growth in South Lake Union without allowing tall residential towers. And of course this is exactly why DPD planners are proposing the upzones. Getting beyond our tall building phobia will free our energies to concentrate on the details that really matter for growing a healthy neighborhood. Fortunately we don't have to look very far north for proven solutions.