Friday, April 17, 2009 | posted by dan bertolet | Comments Off on Three Big Bread Loaves All In A Row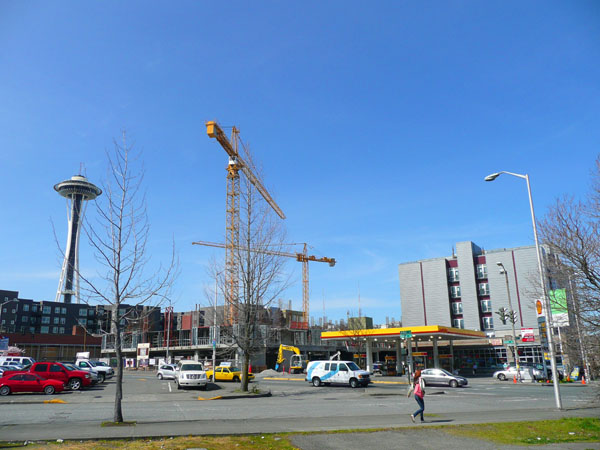 In the photo above, from left to right, along the north side of Denny Way just west of Aurora Ave: Taylor 28, Hyatt Place Hotel/Apartments*, and Marselle Condos. 
In Seattle, the combined effects of zoning and construction-type economics has led to the prevalence of a mixed-use residential building form affectionately known as the "bread loaf" (see for example Breadloaves & Pencils).  The NC-65 zone was essentially written for this building type, which puts five stories of wood frame on top of a one story concrete base, typically with multiple parking levels below grade.  The sweet spot for building depth is about 70 feet, which accomodates both a double loaded corridor plan, and a double row of parking stalls below.  Building length tends to be maximized, so you end up with a 70×65-foot slab two or three hundred feet long — not a particularly inspiring form. 
But to me, what's more uncanny than the fact that these three of loaves happened to land in a row, is where that row is located.  As you may notice in the photo above, it's not exactly a cozy pedestrian-oriented urban village.  Need a gas station, a car wash, or a convenient place to store your white Escalade stretch limo?  You're covered.    
Denny Way west of I-5 is one of the most pedestrian-hostile arterials in the entire city.  The need to accomodate four travel lanes leaves very little room for sidewalk, and eliminates the possiblity for substantial planting strips or parallel parking to buffer pedestrians from fast moving traffic.  You might think that new development would be seized on as an opportunity to set new buildings further back from Denny and humanize the sidewalk, but as far as I can tell it has yet to happen.
The entire length of the Marselle condo building directly abuts the Aurora exit ramp.  Are there people who don't notice such subtleties when they go condo shopping?
Oh, and things are going to get really interesting in this area if and when deep-bore tunnel construction begins.  Sixth Ave has been proposed as the primary connector from Mercer to points south through the tunnel.  Yummy — a depressed freeway entrance ramp.   
Of course, the main selling point for this location is its proximity to downtown.  That it is.  And the plaza at Denny and 5th Ave is a hidden gem of an amenity.  Seattle Center is also nearby, though that's more of an infrequent destination than a regularly visited neighborly gathering place.  
But even being so close to downtown, it's hard to imagine how this location can compete with so many other established, complete city neighborhoods.  And not only will these three loaves be competing with each other and with other neighborhoods for tenants: just across Denny is the mammoth Archstone Belltown apartment high rise (photo below). "Lease Today!"
But here's the deal:  I declare that these developments shall be forgiven for every bit of their loafiness if they succeed in catalyzing a transformation of the Denny-Aurora area into a place that's pleasant and safe for humans who don't happen to be protected by a two-ton glass and steel shell.
*The Hyatt is concrete frame and is two or three stories taller than your typical bread loaf — it got a little more yeast.