Tuesday, July 7, 2009 | posted by MJH | Comments Off on Save the Viaduct! (Or At Least a Piece of It)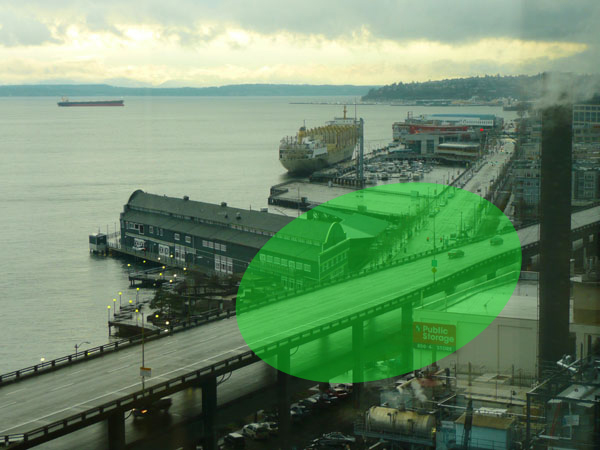 A DJC article published on July 1 considered the design of Seattle's waterfront post-Viaduct. Its central premise is that the design of the public space should happen before the alignment of the surface road is determined. Makes sense. This is a rare opportunity to create a space that can take advantage of all the waterfront has to offer in creating a vibrant and interesting public space rather than just trying to fit something in the space that is leftover from road construction, as is often the case. It's worth a read…
One thing mentioned in the article, and something that I've been thinking about lately, is retaining a portion of the to-be-demolished Viaduct as a historical reference and interesting sculptural feature. The article mentions that Buster Simpson, a public artist, and Jack Mackie, an architect, have proposed saving some columns and partial beams as an "urban ruin". I would take this further and suggest preserving a section large enough to function as an elevated open space and viewing platform (think the NYC High Line, see below). Certainly tearing down the Viaduct has the potential to create an amazing waterfront public space, but the opportunities for increasing open views of the Sound and the mountains beyond are limited by the numerous privately held properties lining the waterfront. Having more elevated viewing opportunities mayhelp address this fact. Victor Steinbrueck Park, and a couple spots in the Market, are among the few elevated public areas where people can take in views of the Sound. As we all know from driving north on the Viaduct, it is high enough to provide some stunning views (I have to admit I will miss that).
Dan's image of the Viaduct actually provides a good illustration of an ideal location to preserve a section of the Viaduct (doubtless there are others). Thus, I stole it and unsophisticatedly overlaid a green oval to indicate a section of Viaduct that could be retained – adjacent to a non-descript Public Storage building, which will undoubtedly go away as significant (re)development occurs along the waterfront. In addition to providing views out towards the Sound and Olympic Mountains, this location also would afford views north along what will hopefully be an inspiringly designed public space. There may also be opportunities to integrate a new building with the structure that would help provide access to the space, and maybe have uses that can take advantage of the views.  At street level any number of activities could occur that could complement the waterfront public space and take advantage of the shelter offered by the old vestige such as café seating, vendor spaces, and maybe a stage for performances. Abundant vegetation growing up the columns and draping from above could be juxtaposed with a jagged edge of rebar and concrete left by the wrecking ball to give the effect of an "urban ruin" being overtaken by nature.
Could be good. Any other imaginative ideas?
The High Line in NYC (Image by AMNP)