Thursday, January 3, 2008 | posted by dan bertolet | 4 comments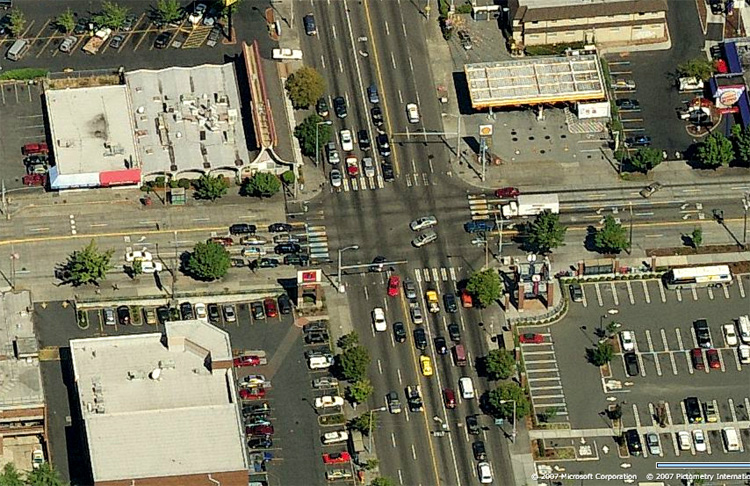 Grok the intersection above. Classic suburbia, no? Six lanes meets seven lanes, a gas station next door to a Burger King with a drive-through, a chain drug store set well back from the street for convenient access by car, a grocery store lost somewhere behind a sea of parking.
This is the intersection of 15th Ave. and Market Street in Ballard. As previously reported, the Denny's building on the NW corner has been nominated for Seattle Landmark status, likely scuttling plans for an 8-story mixed-use residential building.
Regardless of how you feel about the uniqueness of the Denny's building, and regardless of how you feel about the need for densification, one thing is clear: From the perspective of the pedestrian, this intersection is a lost cause. And it will be for a long time to come. The Walgreen's and Safeway are relatively new buildings. The gas station and the Burger King, backed by all their corporate might, are pretty much untouchable.
As with toddlers, we might do well to "pick our battles." So whatever, keep the Denny's. 15th and Market is perfect for it. Two 8-story mixed-use residential buildings are currently under construction on either side of Market Street, about half a block west of 15th. The urban village starts there.