Monday, January 21, 2008 | posted by dan bertolet | Comments Off on Worst Open Space Design EVER
This is the open space on the roof of the the City's Medgar Evers swimming pool, on 23rd Ave between Jefferson and Cherry, in the Central District. I have yet to see a more pathetic open space, anywhere.
It was designed by firm of the late Seattle architect John M. Morse, who had previously worked with Fred Bassetti. In 1970 the Seattle AIA recognized the Medgar Evers pool with an "Exhibition Award." Embarrassing.
For most of its life, this open space has served as a great place to hang out and drink from bottles in paper bags, and for smashing those bottles on concrete. In recent years, ever-resourceful skateboarders and bikers have discovered it, pulling off insanely impossible maneuvers in the most unlikely places.
I think it would be a perfect place for a City of Seattle green roof demonstration.
I'll let the pictures speak for themselves, starting with this birdseye aerial, looking east. Yup, that thing that looks like some kind of WWII-era bunker is the space in question.
Here's how it looked when it opened, looking SE from 23rd Ave: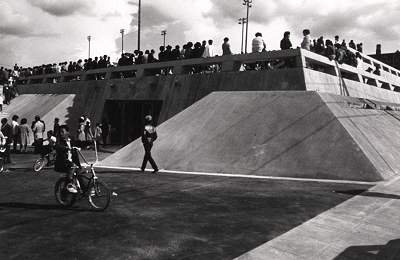 And here's how it looks now, on a sunny winter day: