Thursday, January 24, 2008 | posted by dan bertolet | Comments Off on LEED Silver Townhouses

[ Photo: Dan Bertolet ]
Seattle's first LEED certified townhouses, designed by OPA, built by Cascade Built. Located in the Central Area, at 712 26th S (one block west of MLK Way, two blocks south of Jackson), currently priced at $450k.
They claim these townhouses will be 30-50% more energy efficient than a typical home. That's pretty impressive given that they haven't done anything that radical. The most unusual feature: heat recovery ventilation.
And my favorite detail: they've set up wiring and plumbing for future installation of photovoltaics and solar hot water. I don't believe there are any LEED points to be had for this sort of pre-setup, which suggests that the builder did it simply because it's the right thing to do. Bravo.
The one unfortunate aspect of this project, which you won't see in the real estate photos, is the siting. As shown below, the building is on the back half of a standard single-family lot, jammed in behind an existing house. It is completely paved between the two buildings. Nor is there an alley for access to the back side (shown in the upper photo). Too bad that this innovative project is on such a clunker of a site.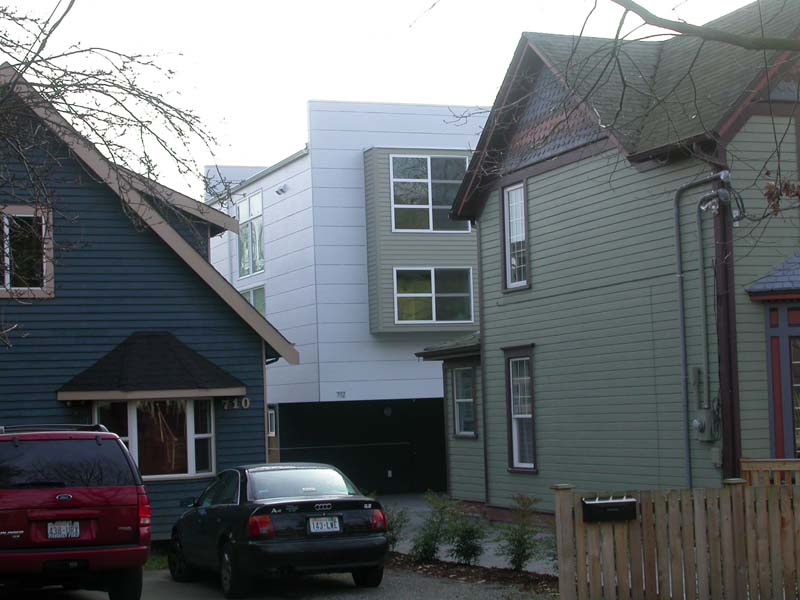 [ Photo: Dan Bertolet ]