Sunday, January 27, 2008 | posted by dan bertolet | Comments Off on Does Live-Work Work?
UPDATE: See comment #1 for a clarification on the building shown below from the developer. In short, it is not live-work, but "live above work," consisting of five separate mixed-use buildings.

[ Photo: Dan Bertolet ]
This is a recently constructed live-work unit development at 25th and E. Union in the Central District. There are five units, with commercial space ranging from about 500 to 900 sf, and residential space from about 1400 to 1500 sf.

[ Photo: Dan Bertolet ]
The City of Seattle approved a live-work unit ordinance in 2003. Live-work units combine residential and commercial space in a single unit, and residents must possess a business license. A key provision in the code is that no parking is required for the residential portion of the units, which provides design flexibility and encourages small-scale buildings that are not dominated by surface parking or garages.
It's easy to like the idea of live-work units. They encourage small businesses and help strengthen community at the neighborhood level. They bring interest and activity to the street. And they help reduce commuting.
But I can't help being a tad skeptical: Do they work as advertised in the real world? What fraction of the live-work units out there have healthy, operating businesses, and what fraction are essentially functioning as apartments? Is there demand for these units in Seattle, or is there already a glut? Help me out here — anyone?
The project shown above is relatively isolated from other commercial uses and gets very little passing foot traffic. And so these spaces are not likely to be successful for many types of businesses, at least until there is more commercial development around 23rd and Union.
Coincidentally, there are two more live-work developments proposed within a few blocks of the E. Union St. project described above. The first is at 26th and East Cherry St (careful, big pdf) , rendering shown below:
The second is on East Union between 20th and 21st, designed by Pb Elemental, rendering below: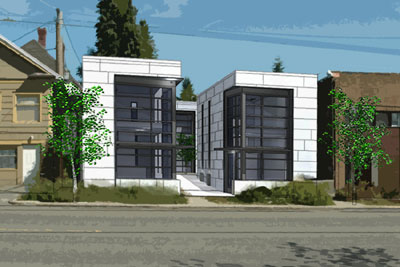 These two projects are also located in areas that will not provide much commercial synergy. All three live-work developments will be will be trailblazers, and here's to hoping the neighborhood can absorb and support them.