Sunday, February 3, 2008 | posted by dan bertolet | Comments Off on Federal Way Going Hugeass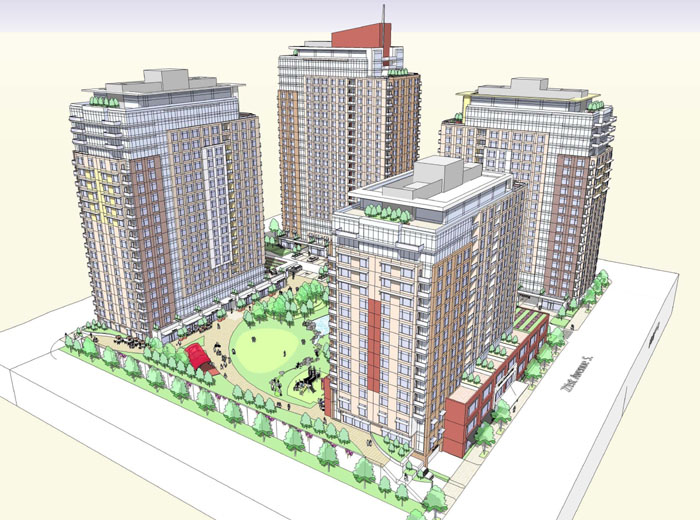 Hell yes, this is coming to Federal Way, WA, a bedroom community of about 86,000 people located between Seattle and Tacoma. Part of the City's downtown redevelopment strategy, the project consists of four towers from 16 to 24 stories on a 4-acre site, with a whopping total of 900 residential units, along with 60,000 square feet of retail, commercial, and office space.
Project price tag: $250 million. Land cost: only $6 million. This ain't Seattle.
The architect is Vancouver, BC-based VIA Suzuki, though these clearly are not to be slender Vancouver-style point towers.
The project includes a one-acre public park. If you look closely at the rendering, you can see that the park is elevated about 15 to 20 feet above the street, no doubt because it is sitting atop the concrete slab of the parking bunkers below. The press releases don't mention how many parking stalls will be in the project, but it's got to be something on the order of a couple thousand. So it's no surprise that some of the parking is above grade. Unfortunately, elevating a park tends to isolate it from the street. And then there's that humongous blank wall along the lower edge of the project. Yet another example of how the accommodation of cars leads to bad urban design.
But enough whining about the details. What an amazing thing, this density coming to a relatively small city. This is a growth management success story that should help ease some troubled minds. Housing at such a high density at this location would never have happened without growth management. Federal Way is probably satisfying its entire population growth target in this one project. And as a result, likely hundreds of sprawling new homes will not be built.