Wednesday, February 6, 2008 | posted by dan bertolet | Comments Off on 440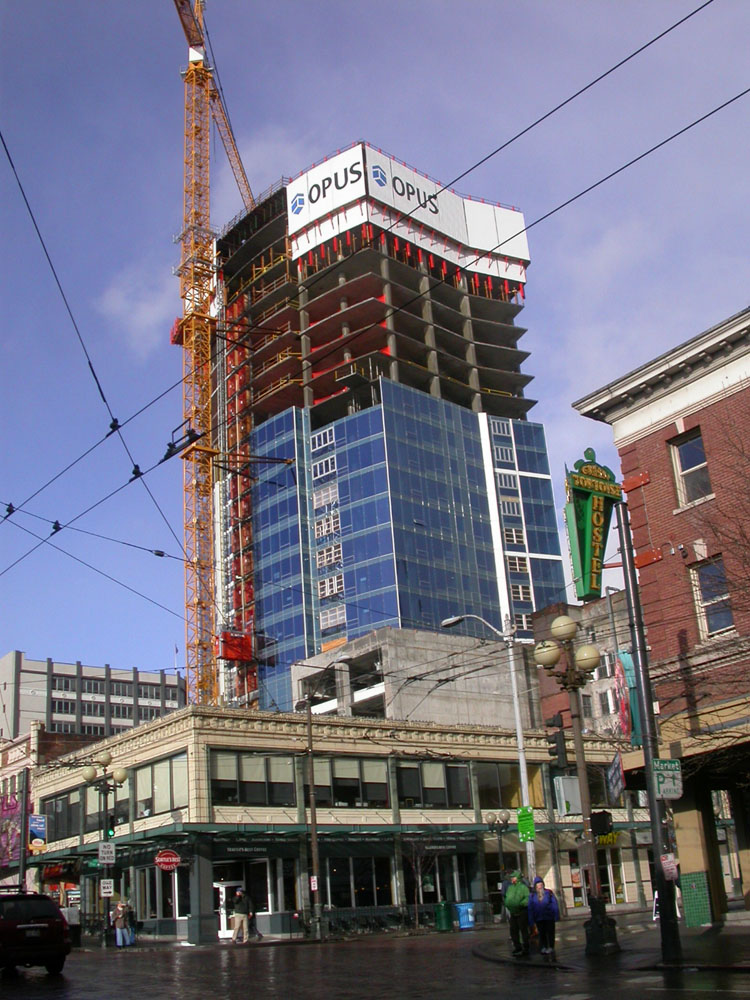 Well on it's way to 440 feet, this is 1521 2nd Ave: 38-stories, 143 luxury condo units, designed by Weber Thompson, developed by (can you guess?) Opus. It will be the tallest residential tower in Seattle, and is targeting LEED Silver certification in order to qualify for a height bonus under the City's new downtown zoning.
It's great to see Seattle's new downtown zoning come to fruition in a high-density residential tower. Though, because of the luxury units with large floor areas and tall ceilings, the density is not as high as it could be. I suspect that raising the density of luxury condo units was not Steinbrueck's primary motive for working so hard on the downtown zoning updates.
The project has been touted as Seattle's first "tall-skinny" tower, but that's a bit of stretch. The parcel is roughly 150 by 110 feet, and the tower footprint isn't all that much smaller — it must be at least 10,000 square feet. There is no strict definition of a "point tower," but most would probably agree it should be on the order of 7,000 to 8,000 square feet, or perhaps even less.
Furthermore, it would be ideal if the tower was rotated 90 degrees so that it's wider dimension was parallel rather than perpendicular to the western water and mountain views. The new WaMu tower at 1st and Union is a particulary egregious example of this fault. Unfortunately much Seattle's street grid has long, north-south oriented blocks which encourage a north-south building orientation. Vancouver, BC is known for arranging its towers to maximize views between and around towers.
Two more tidbits to stimulate your deep thoughts:
1. What's up with those columns of four-panel windows running up the facade that look like something you'd find on a seventies suburban house (Anderson windows!)? Are they temporary? Are they there to satisfy a LEED operable window point? They totally stand out from the rest of the slick glass facade. Weird.
2. Is this thing beating up on Pike Market? Does it clash, or does it bring a welcome new dynamic to the area? Does anyone care?