Wednesday, September 3, 2008 | posted by dan bertolet | 28 comments
This is the Terry Thomas, Weber Thompson's new 40,000 sf office building in South Lake Union. It has no air-conditioning. That is, it's the first significant office building without air-conditioning to be constructed in Seattle for perhaps half a century. NBBJ wanted to do this at Alley 24 but the developer got conservative and decided against it at the eleventh hour.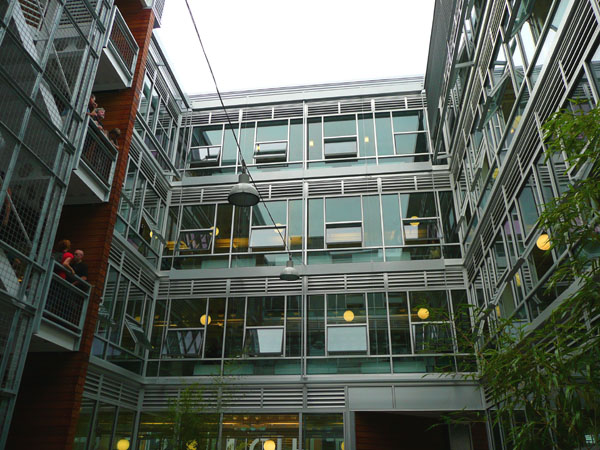 Terry Thomas is a donut (courtyard in photo above), which enables optimized passive ventilation as well as copious daylighting. It has 248 operable windows, along with a variety of computer controlled louvered vents and shades. It is heated with a natural-gas fired hydronic system, a.k.a. hot water radiators. They expect to achieve at least a 30% reduction in energy use compared to a typical office building.
In Seattle's climate, relatively few building uses couldn't get by without air-conditioning in a properly designed building. And when you consider the dual challenges of climate change and peak oil, it seems almost criminal that status-quo buildings continue to go up. Someday buildings like Terry Thomas will be the norm, but the further away that someday turns out to be, the more pain we're all going to feel in the long run. Maybe there oughta be a law?