Sunday, September 14, 2008 | posted by dan bertolet | Comments Off on Genius Land Use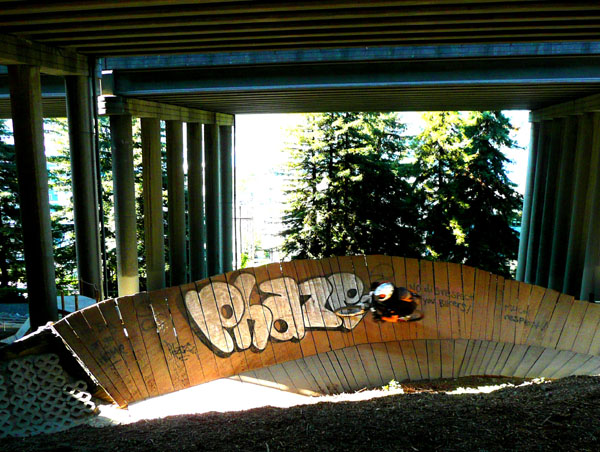 "No disrespect to you bikers! Much respect!"
That graffiti pretty well captures my sentiments for the people who made this place happen: Under the freeway between North Capitol Hill and Eastlake, I-5 Collonade Mountain Bike Park is an absolutely brilliant reclamation of previously useless urban land.
The park occupies 7.5 acres owned by the Washington State Department of Transportation that was identified as potential open space in the 1998 Eastlake Neighborhood Plan. The 2000 Seattle Parks Levy tossed in $1.8 million for construction, and the Backcountry Bicycle Trails Club stepped up with thousands of hours of volunteer work to build the mountain bike trails. More details on the history here.
The photo above shows the scene yesterday, at the grand opening celebration of the complete park (parts of the park have been open since 2005). It's a startlingly vast area under there. The looming I-5 deck, the massive, towering concrete columns, the dusty dry ground, and the slashes of sunlight create a uniquely surreal atmosphere. And there must have been about a billion dollars worth of bicycle in the park yesterday (what recession? — a $2k dual-suspension dirt jumper in every pot!).
It's inspiring: citizen volunteers, the neighborhoods, the City, and the State all playing nice together to produce something very outside the box that has become a smashing success. And not just for bikers: the new stairway through the park provides a new pedestrian connection across I-5, and it has been well used.
At yesterday's event a petition was being circulated to request that WSDOT open a gated maintenance road that would allow a trail connection from the park to points south. With Colonnade Park as a precedent, it will be much harder for WSDOT to say no.

[ Nothing photoshopped here, that's a real unicycle. Should we be surprised, in the land of extreme everything? ]