Wednesday, September 17, 2008 | posted by dan bertolet | Comments Off on Bipolar on Towers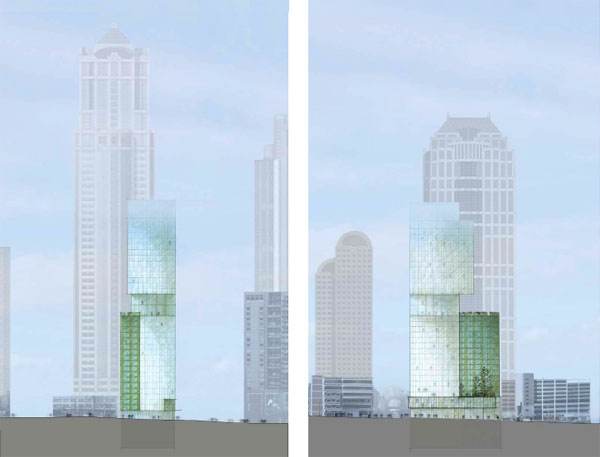 [ Candela rendered elevations by Olsen Sundberg Kundig Allen Architects ]
The Candela Hotel and Residences (renderings above) at 2nd and Pike is in the design review process, but just a block and a half to the north, the 1 Hotel and Residences has only made it as far as a bare hole in the ground dug in 2007.
Intracorp is selling off its 24-story residential project at 1915 2nd Ave, while practically next door at 1931 and 2015 2nd Ave the Justin Company's pair of proposed 400-foot residential towers is moving ahead. One block east on Virginia, Tarragon's proposed 43-story apartment tower began the design review process back in 2005, but appears to be in purgatory. And two more blocks east on 5th Ave, the twin-tower, 43-story Heron Pagoda was put on hold this summer.
Up in the Denny Regrade area HAL Real Estate Investments recently proposed a 400-foot apartment tower at 2116 4th Ave, which happens to be right around the corner from The Martin, Vulcan's proposed 24-story condo tower that has been languishing since 2006.
And last but not least, way out on the manic end of the spectrum:Â the recently proposed 35-story condo/hotel project at 1012 1st Ave has units offered for sale before permits have been applied for, and conceptual designs have been produced by two architecture firms (see below) even though neither concept could likely be built because it is too close to the Hotel 1000 building to the south.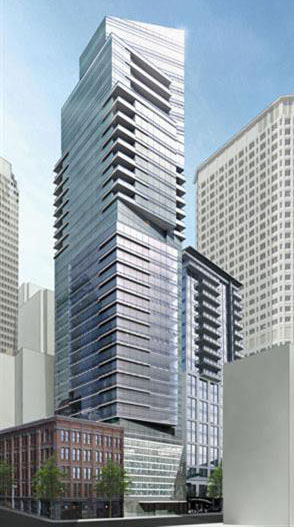 [ 1012 1st Ave coneptual designs:Â  Ismael Leyva Architects on the left, Pb Elemental on the right. ]