Thursday, November 6, 2008 | posted by dan bertolet | Comments Off on Facadism

[ Rendering of the Packard Building renovation that stacks three new floors on top of the existing Foley Sign Building at 12th and Pine on Capitol Hill ]
There sure isn't a whole lot of the original Foley Sign building left on which to stack the three new floors of housing shown in the rendering above. Great that Barrientos is saving the facade, but dang, it's hard to imagine how such complicated construction can possibly pencil.
The finished project will hold 61 apartments and 5000 sf of street-level retail. Clean, simple, and strong above, nicely complimenting the historic facade below, with a rhythm reminiscent of Trace Lofts on the next block south. The building will make a nice anchor for the corner. Too bad there's a police station right across the street that creates such a dead zone in the streetscape.
Barrientos is amassing a hefty apartment inventory in the neighborhood — Foley Sign, Pearl, and Chloe are all within about a four block radius of each other. It will be interesting to see if there's enough supply coming on to push down rents noticeably.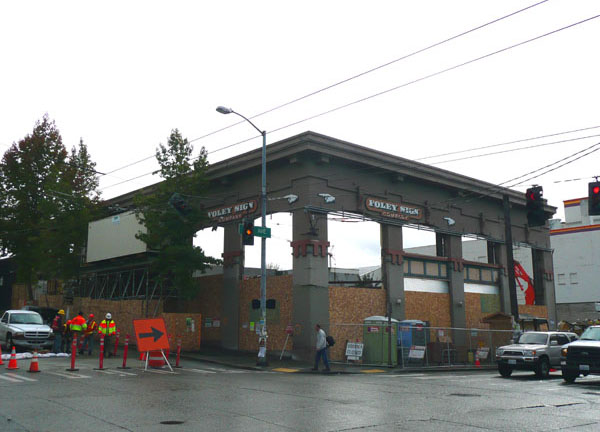 [ The gutted Foley Sign Building at 12th and Pine ]