Sunday, January 4, 2009 | posted by dan bertolet | Comments Off on High-Rise Apartments Marching On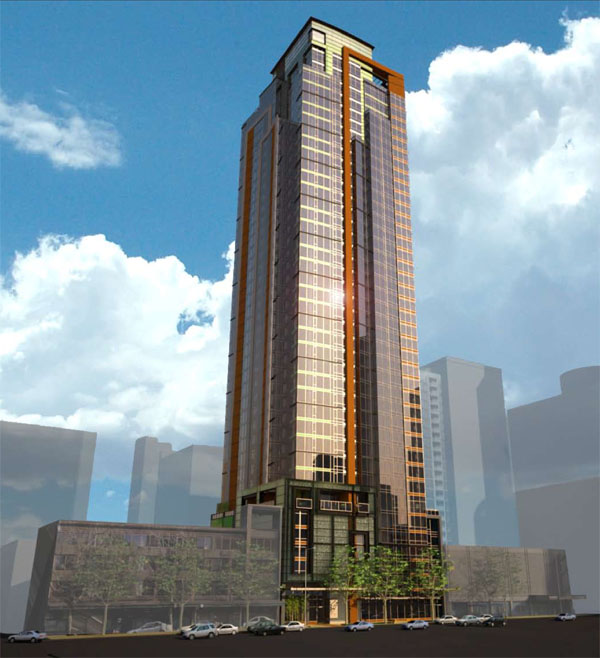 This proposed 400-foot tower at 2116 4th Ave in Belltown just had its design review recommendation meeting meeting December 16. Developed by HAL and designed by Weber Thompson, the 444,500 sf project will house 359 apartments, 2,700 sf of street-level retail, and 324 parking stalls.
The parking ratio of 0.9 is relatively low for typical high-rise residential, though by code it could be zero. Since the building footprint is only about 12,000 sf, those 324 stalls have to be spread over 12 levels, four above, and eight below grade. The four above-grade parking decks present a serious design challenge, and will be "animated with work studios covering approximately 55% of the façade, and treated with a dynamic and artistic architectural expression," according to the design review document (pdf).
Of course the question is, given the current development slowdown, is this project still scheduled to move ahead? Such information is typically closely held by developers, but apparently HAL may have some immunity (pdf, see p.3).
"The Company invests its own capital, not funds temporarily made available by outside investors. As a result, HAL does not operate within limited time horizons, nor is it subject to other restrictions common to institutional investors."
With so many Seattle downtown residential projects going on hold, it could pay off to get a project in the pipeline now, such that it would be coming on line when things begin to recover (assuming they do…). Though there will likely be big chunk of competition hitting the apartment market in the area in about two years: 624 apartments in the Pine Street Group's 240-foot twin tower on 6th Ave between Blanchard and Lenora; 344 apartments in the 440-foot "Kinects" tower at Minor and Stewart, and 325 apartments in a 440-foot tower at 815 Pine St, both being developed by Security Properties. All three projects are currently scheduled to break ground in 2009.