Monday, April 6, 2009 | posted by dan bertolet | Comments Off on Design Review Marathon
This is what Alaska Junction in West Seattle looks like today, looking southeast.  The building in the background is a nearly completed seven-story residential building known as Mural, developed by Harbor Properties, and designed by Hewitt Architects.
Shown below is a rendering of the proposed building for that money corner site.   The project just had its fourth Design Review Board meeting, at which it was decided that the developer, Connor Homes, would have to come back for yet another round.  Read all the gory details here, if you can stand it (I couldn't).
While I have to admire the tenacity of the DRB and West Seattle residents, should there be a limit to how long this process can be dragged out?  The cost to the developer must be in the hundreds of thousands by now.  Is this an example of the DRB working as intended to enforce appropriate design, or is it Seattle process run amok?  Discuss.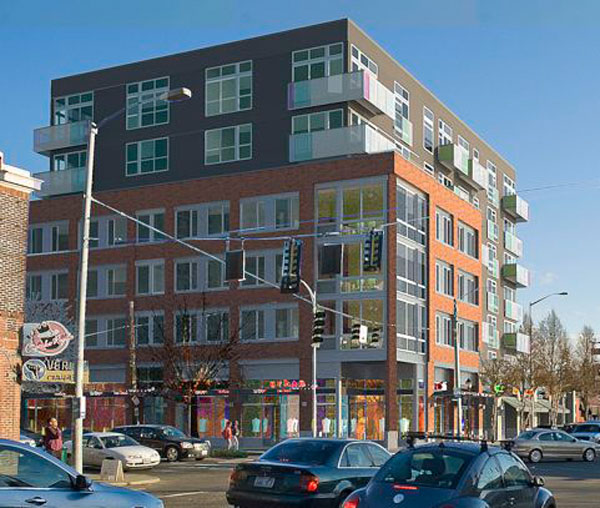 [ Rendering:Â  Weber Thompson, via West Seattle Blog ]