Wednesday, February 20, 2008 | posted by dan bertolet | Comments Off on Rainier Vista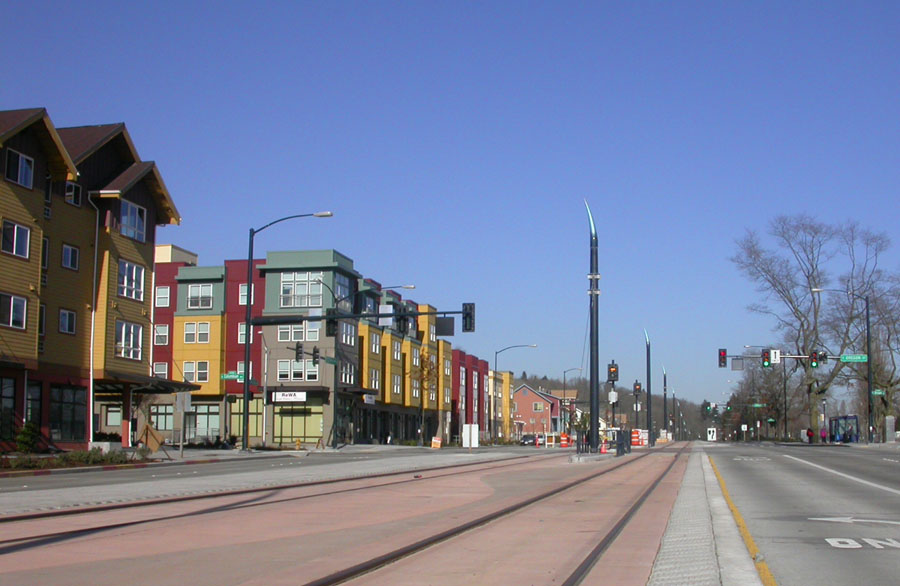 [ Looking north on MLK Blvd; Photo: Dan Bertolet ]
This doesn't look like the Seattle that I know. But drive a couple minutes south down MLK Blvd from where it crosses Rainier Ave and this is what you'll find: development that actually makes sense for the 21st Century.
The buildings are part of Rainier Vista, an affordable housing development that will eventually include 850 homes for a range of low-income levels, along with 250 to 350 market-rate homes. The Edmonds Light Rail Station is at the development's doorstep.

[ Photo: Dan Bertolet ]
The buildings have been hatched from several different architect/developer teams, so there is a welcome diversity of styles. Color was encouraged, so as to avoid the relatively monotone look of New Holley, another Seattle Housing Authority development further south on MLK Blvd.

[ Photo: Dan Bertolet ]
Rainier Vista has many key pieces of the sustainability puzzle: density, open space, diversity, affordability, and transit. What's missing are cutting-edge energy and water strategies. And real density. If this site was in Vancouver BC it would have 20-story towers.