Thursday, March 13, 2008 | posted by dan bertolet | Comments Off on Pb Elemental is on Fire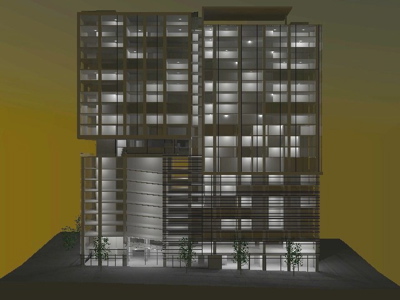 But will they go down in flames?
Based on their web portfolio, the design/build firm has yet to produce a building more than three stories tall. Yet within the past month they have unveiled plans for a 440-foot residential tower, as well as the 24-story hotel/condo project shown in the rendering above.
As for midrise, this 20-unit mixed use project at 151 12th Ave in the Central District will be the firm's first (early design guidance was in January). A second midrise is also on the boards, rendering below:
Meanwhile, the firm continues to crank out smaller-scale projects — there are 18 listed on their web site that are either in the design phase or under construction. Six of these are "live-work," which is still a relatively unproven building type in Seattle — the City's live-work ordinance was passed just five years ago. The live-work typology has great potential for improving neighborhood vitality and sustainability, and it's commendable that Pb Elemental is willing to take the risk. Their "9th Avenue" live-work project is rendered below.
Nearly all of Pb Elemental's projects have striking form, and as such stand out from most other new architecture in Seattle. And this is creating a distinct marketing identity.
So who is Pb Elemental? Their two founders are in their early thirties. The firm has grown from 2 to 50 employees in just four years. They have brought on a new President and CFO who was formerly the CFO of Lorig Associates. They are currently building a new company headquarters. They won an AIA honor award in 2007. Both the Seattle PI and The Stranger have praised them.
It all sounds so dot-com.
Clearly the latest development cycle has peaked. Has Pb Elemental overextended itself? It wouldn't be the first or the last development and/or architecture firm to do so.
Or, will their burn just keep getting hotter? For the sake of Seattle architecture, here's to hoping it's the latter.