Wednesday, September 24, 2008 | posted by dan bertolet | Comments Off on Bel-Red Corridor TOD Planning
For Seattlites seeking inspiration on how to plan for transit-oriented development (TOD), the edge-city just across the lake may seem like an unlikely place to find it. But in 2007 the City of Bellevue completed a planning effort for the area east of downtown known as the Bel-Red Corridor that is well worthy of emulation. Currently best known for its luxury car dealerships, the Bel-Red Corridor is on the path for the future Sound Transit East Link light rail alignment connecting downtown Bellevue and Redmond.
The graphic above illustrates proposed building heights limits surrounding a future transit station node. The max of 150 feet is far higher than the typical buildings in that area, but it is appropriate for the densities that make TOD successful. How did Bellevue pull it off in the face the commonly held aversion to tall buildings?
The map above identifies proposed open space and riparian corridor improvements that are part of the deal. This kind of amenity upgrade helps placate residents who tend to see tall buildings as a sacrifice. And renderings such as the one below help people visualize how high-intensity development can provide attractive and livable environments.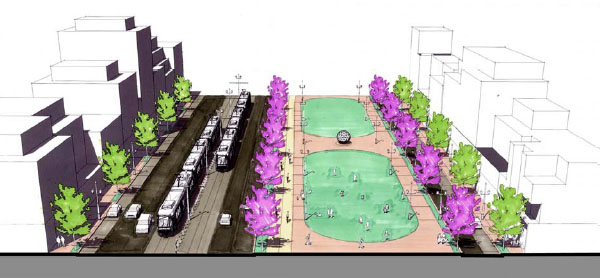 This Fall, the City of Seattle will embark on station-area plan updates for the Beacon Hill, McClellan, and Othello light rail stations. To leverage our massive investment in light rail, and to move toward a more sustainable city overall, heights in the 150-foot range should be allowed in some of these areas. As in the case of Bel-Red Corridor, Seattle's challenge will be to balance the more intense development with improvements to public amenities, such that in the end urban livability is enhanced for all.