Saturday, December 20, 2008 | posted by dan bertolet | 8 comments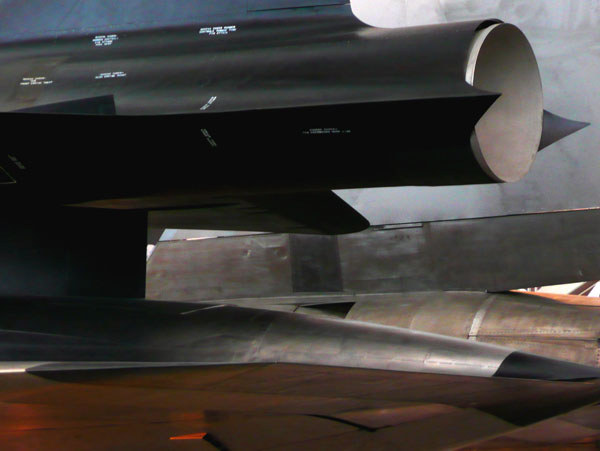 [ The Lockheed SR-71 Blackbird at the Boeing Flight Museum ]
In 1976, a Lockheed SR-71 Blackbird hit 2,194 m.p.h. and reached an altitude 85,067feet — no airplane has flown faster or higher since.
In 1976, Viking 1 landed on Mars.
In 1976, this car was built — the first catalytic converters started to appear on American cars about two years prior, marking the end of the muscle-car era.
In 1976, the chimpanzee, our closest genetic relative, was officially declared an endangered species.
In 1976, the Apple Computer Company was formed.
In 1976, Watergate and the loss the Vietnam War were still painfully fresh.
In 1976, Dick Cheney replaced Donald Rumsfeld as President Gerald Ford's Chief of Staff, and later managed Ford's failed re-election campaign.
In 1976, Jimmy Carter was elected president — he had progressive ideas about energy conservation and renewable energy sources, but his successor, Ronald "government is the problem" Reagan, put the kabosh on all that.
In 1976 or thereabouts, the limits of the country and the limits of the planet were being revealed like never before. But during the following three decades, too many of us decided to pretend that no such limits exist, clinging to past successes. Natural, social, and economic capital was squandered; delusions of empire prevailed; little to no real progress was made on energy, transportation, or land use. And so we have become poorly situated to deal with the future that is upon us.
But now the children of the 1970s are getting their turn to run the show: My generation: Obama.
Perhaps it is naive to hope that the status-quo pairing of short-term gain and long-term pain can be overcome by the sea change that we so badly need; that our culture's deeply ingrained focus on the individual and faith in growth without limits can be recast into a world view that nurtures the full potential of humanity. But then again, three decades of stalled progress punctuated by a George W. Bush finale ought to be a singularly potent catalyst.
>>>
BONUS: In 1976, Elvis Costello, Talking Heads, The Clash, Sex Pistols, The Ramones, and XTC were busy conceiving their seminal 1977 releases that ushered in the punk/new-wave era — a reaction to the overwrought prog-rock and bloated jam bands that were revealing the limits of the form.