Monday, October 12, 2009 | posted by dan bertolet | Comments Off on Please Join Me Tonight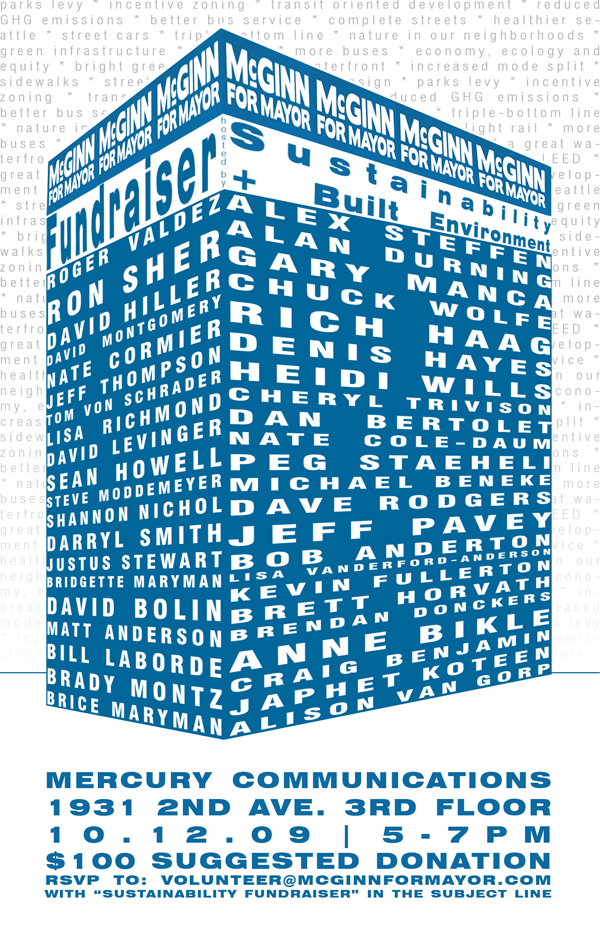 Please join fellow sustainability and built environment leaders for a fundraiser in support of Mike McGinn. As a leader at the Sierra Club, he fought against highway expansion and last year Mike lead the successful effort to pass the Parks and Green Spaces Levy. Rather than sinking billions of dollars in auto-dependent infrastructure, Mike wants to invest in a city-wide light rail network that will connect our communities.
This evening is made possible by the generous support of our hosts: Matt Anderson, Bob Anderton, Michael Beneke, Craig Benjamin, Dan Bertolet, Anne Bikle, David Bolin, Nate Cormier, Nate Cole-Daum, Brendan Donckers, Alan Durning, Kevin Fullerton, Rich Haag, Keith Harris, David Hiller, Brett Horvath, Sean Howell, Japhet Koteen, Bill LaBorde, David Levinger, Gary Manca, Brice and Bridgette Maryman, Brady Montz, Steve Moddemeyer, David Montgomery, Shannon Nichol, Sara Nikolic, Jeff Pavey, Dave Rodgers, Peg Staeheli, Alex Steffen, Ron Sher, Darryl Smith, Justus Stewart, Bryan Terry, Jeff Thompson, Cheryl Trivison, Roger Valdez, Lisa Vanderford-Anderson, Alison van Gorp, Tom von Schrader, Heidi Wills, Chuck Wolfe and Yancy Wright.