Monday, November 16, 2009 | posted by Roger Valdez | Comments Off on Don't Lose Your Head Tax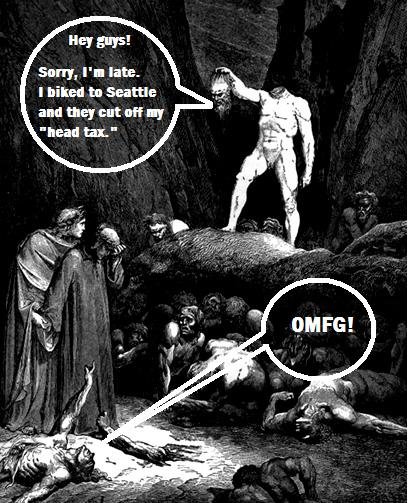 The story of the so called "head tax" must wind up being about accountability.  How will the Seattle City Council be held accountable for repealing the tax in the face of so many rational reasons to keep it?  First, let's go back to the beginning.
Over the summer some of us learned that the "head tax" was on the chopping block, mainly because promises had been made to the Seattle Chamber of Commerce and the Downtown Seattle Association. People running for Council had promised to remove the dreaded tax.
Supporters of the tax rallied. Calls were made, research done and opinion pieces submitted to the Seattle Times.  The Times wouldn't publish the piece because they supported repeal.  Visits were had with members of the City Council and the case was presented. Here it is:
Our request to you is pretty straightforward. Please do not vote to repeal the so called "Head Tax" this year.

This repeal won't help business and will create more budget challenges at a time when revenues are down and financial challenges for the city are increasing. Consider the following:

Is now the time to give away more than $4.5 million in revenue? That is more than $20 million dollars over the next 5 years. The budget short fall this year exceeds $70 million dollars. If you repeal this tax you simply add more to that gap.

The tax won't create any relief for businesses in Seattle. Businesses paid, on average, $92 per year for this tax, and remember businesses earning less than $80,000 in revenue pay nothing toward this tax.

People voted in favor of the Bridging the Gap (BTG) ballot measure based on the inclusion of the revenues from this tax. Repealing the tax now is not keeping faith with the voters who supported the BTG package which included revenue from this tax.

This tax can create real, living wage jobs for construction workers and local contractors. The funds from this tax add to pedestrian and bike infrastructure projects. At a time when our state's unemployment rate has increased to 9.2 percent why would we forgo the opportunity to support more work for these local people.

The tax incentivizes alternative transportation. Some say that this does nothing to discourage driving because the tax is so small. That isn't a reason to repeal the tax but a reason to increase it. Please don't allow the false logic of it being too small of a tax to encourage repeal.  If the paperwork is a challenge, focus on fixing that problem first.

One of the key features of this tax that makes it even more important to hold on to is that it is bondable, meaning every dollar that we collect brings with it more potential dollars in the form of low interest, or no interest loans in the form of bonds. If you repeal this you also repeal that leverage
Two other important facts to note; the same Council that repealed the "head tax" and rushed a tunnel agreement forward for a vote (9-0) took more than a year to pass legislation allowing 800 square foot backyard cottages. In a multiple year pilot in the southeast section of the city, less than two dozen cottages were built. Yet it took the City Council over a year to do what Portland did years ago and Vancouver BC did much faster. Sustainable cities allow cottages because they create more options and choices. The City Council chose to make simple decisions overly complicated and complicated ones overly simple.
Reason was just a speed bump on the drive to satisfy a very narrow set of business interests—the Greater Seattle Chamber of Commerce and the Downtown Seattle Association—on the "head tax." Again, this was the repeal of a tax that did everything right—funded pedestrian and bike infrastructure at the expense of people who drive to work—for very little cost to business ($92 a year for the average business). And there was no outcry from actual, real businesses about the tax.
Personally, I would have been irritated by the repeal but accepting if it actually created jobs and helped small and medium sized businesses. I would have shrugged if the tax was replaced with another source of revenue, in this budget, that was dedicated to pedestrian and bicycle infrastructure.  And if that revenue was derived from auto intensive uses like parking taxes and tickets, for example, I probably wouldn't be outraged. And finally, had the Council deliberated more on the billion dollar tunnel vote and a lot less on backyard cottages I almost certainly wouldn't be writing this bill of particulars. But that isn't how it happened.
So maybe someone in our city will organize around this issue and little by little and in quiet ways get ready for the 2011 council elections, when there are five seats up for election.  It is early yet for 2011. But it isn't too early to find candidates willing to run for open or occupied seats. Bold? Maybe it is. Ill advised? I don't think so.
Is there any other way to create a happy ending to the story of the ill fated "head tax?" Can the shape of Council change by 2011? Or will the story end with good stewardship of public resources and sustainability abandoned by politicians in favor of pleasing a couple of business organizations. Will the Council create a dedicated fund for bike and pedestrian infrastructure in this budget?
Only time, and the voters eventually, will tell whether this was an easy win for business soon forgotten by the losers, or if it will be but one battle in a longer struggle to make Seattle a city that has leadership willing to pay for sustainability not just talk about it.